Dolphin 1 | Remote Controlled Lifebuoy
World Leading Unmanned Water Surface Vehicle Solution
---
Rossbro is proud to be the exclusive Canadian distributor for the Dolphin1, an unmanned water rescue unit that is designed to supplement existing rescue equipment. Manufactured by Oceanalpha, the Dolphin1 is an unmanned remote control buoy that provides surface water rescue teams with another option when required, particularly in situations where there is no access due to rough or high shorelines, which reduces access to rescue boats.

The Dolphin-1 Plus is the updated version of the Dolphin-1, and it is designed to be used in conjunction with existing water rescue equipment rather than as a replacement. This provides water rescue teams with more opportunities to save lives in situations where traditional rescue methods are not possible or may be too dangerous. The Dolphin-1 Plus is ideal for rough waters, lakes, rivers, and shoreline rescues, and it is well-suited for fast river and lake rescues.

The Dolphin-1 is also incredibly versatile, and it can be used to deliver goods strapped to the stretcher unit or bring a rope to others on the shoreline or boats. It is equipped with a searchlight and speaker, and a camera is optional. This makes it an excellent tool for situations where it may be too dangerous to throw a lifeline with a buoy in rough currents, with the possibility of missing the intended target or accidentally hitting them with the thrown buoy. It can even be thrown down from bridges up to 30 feet high.

The Dolphin-1 is particularly effective in shoreline rescues, where it eliminates the need for rescuers to swim out to potential panicked individuals. This makes it a safer alternative for rescuers and ensures that those who require assistance can receive it quickly and efficiently. With the Dolphin1, water rescue teams in Canada now have an additional option for saving lives in difficult situations, and Rossbro is proud to be a part of this lifesaving technology.

The Dolphin 1 alleviates the following challenges faced by rescuers in both fresh and saltwater environments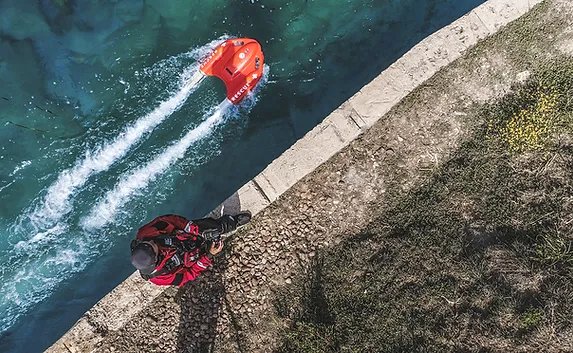 IMPROVES OPERATIONAL SAFETY​
---
With the Dolphin 1, there is no need for rescuers to enter the water themselves. This eliminates risks such as panicked victims and adverse water conditions, which can lead to the rescuer becoming an additional victim.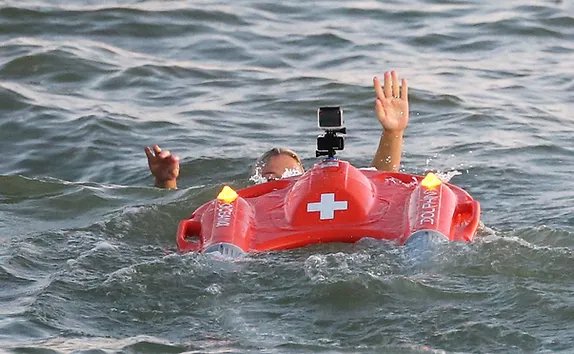 EFFECTIVELY MAINTAIN VANTAGE POINT
---
The Dolphin stands out in the water due to its bright color and fog lights, which help ensure that the rescuer can keep sight of the victim and reduce the risk of losing them in difficult conditions. Its distinctive appearance also enables rescue missions to be carried out with greater safety, speed, and efficiency, making it an invaluable tool for water rescue teams.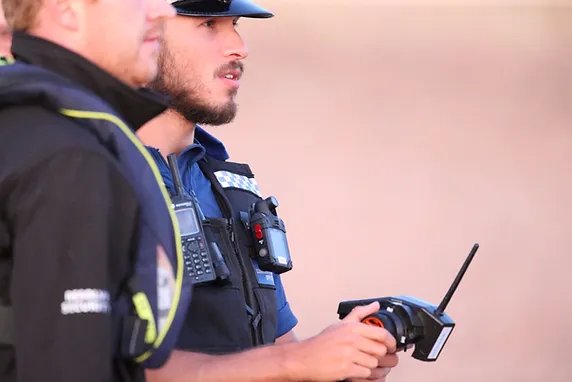 PROFESSIONAL, BUT SIMPLE
---
Unlike jet skis or MOB boats, the Dolphin 1 is incredibly easy and straightforward to operate. It does not require certified personnel, making it a highly convenient tool when an urgent rescue mission arises.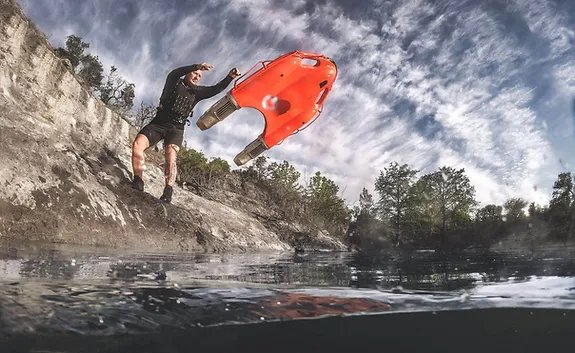 COMPLIMENTARY TO OTHER ASSETS
---
Since every water rescue scenario is unique, it is essential that those responsible for rescue operations have access to a range of effective tools. This enables them to tailor their response to each situation and provide every potential victim with the quickest and safest rescue possible, increasing their chances of survival.
Specification
| Hull Material | PE plastic |
| --- | --- |
| Dimension | 1.19 m(L) *0.85 m(W)*0.2 m(H) |
| Weight | 13 kg |
| Power | Water-jet Thruster |
| Max. Speed | 12km/h(3.3m/s) |
| Floatability | 225 kg |
| Buoyancy | 32 kg |
| Control Range | 800 m |
| Thruster Power | 1800 w |
| IP Rating | IP 67 |
Innovative Technology to Save Lives with Dolphin 1
The Dolphin 1 is a self-powered electric water rescue device directed by a simplified remote controller. It fills the gap between traditional foam buoys and jet skis with more precision, cost-effectiveness, and safety for rescuers. With a maximum speed of 12km/h, it can cut through waves and torrents to reach a troubled swimmer within minutes. Its buoyancy is equivalent to two regular buoys, allowing it to carry multiple casualties in one action.
Eye-Catching Signal Lights and Injury-Free Operation
The Dolphin 1 is bright orange with two high-penetration flashing fog lights, making it visible over long distances and in bad weather. It is designed to be injury and tangle-free with a shell over the propellers to keep a panicking casualty safe and avoid entanglement with water plants or debris. The batteries are stored in a water-tight independent cabin, ensuring the Dolphin 1 can function even if the hull is damaged accidentally.
Reliable and Easy Operation
The Dolphin 1 is easy to operate, with a simplified remote controller that can be learned within seconds. Pressing the trigger drives it forward, and rotating the knob turns it left or right. The Dolphin 1 is also reliable and safe, with water-proof batteries that can keep it functioning and bring a casualty back to shore safely, even if the hull is damaged.